Meet Steph Nolan
8th September, 2021
After seven incredible years here at the Cotton On Group and five months after becoming a mum-of-two, Steph Nolan will step in as General Manager (GM) of the Group's newest brand, Ceres Life.
Steph's all about living our purpose and encouraging everyone around her to do the same. She has a 'roll up your sleeves' approach and is unstoppable when it comes to unlocking ideas to drive brands forward. Starting in brand finance back in 2014, Steph's journey with us has 'start here, go anywhere' written all over it. Having supported Cotton On Body through a major growth phase, developed Group-wide strategies and helped Factorie to build their future, Steph's no stranger of taking things to the next level.
"Steph is a long-standing and much-loved part of the COG family and we're thrilled to be able to support her in taking the next step in her career."
-Peter Johnson, CEO
Since joining us, Steph's also become a mum twice over; proudly growing her family while also growing her career. And, as she steps into lead the Ceres Life team, Steph joins a majority female leadership group of GMs across the business.
As part of the team that launched Ceres Life last year, Steph's thrilled to have the opportunity to lead the brand into its next chapter. A brand aligned closely with her personal values and driven by a group of powerhouse working mums, just like Steph.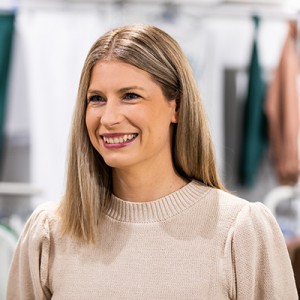 I love working at COG. I've worked with the most talented, down to earth and inspiring people. I love the learning culture we have and our commitment to people development. Being a fast-paced and customer driven business, there's always exciting opportunities and challenges to throw yourself into.

-Steph Nolan, GM Ceres Life
So, what's next for Ceres Life with Steph leading the charge?
"Wellness and development will be a huge part of my leadership strategy, knowing that when the team are well and happy, they'll perform at their best. Driving confidence in what each person brings to the table, and building great relationships with the people who inspire us to think differently is key.
And together our team will be focused on customer. Driving awareness through digital and wholesale channels, building on the connection we have with our existing customer and listening and responding, always. We'll continue to elevate The Good and when we're ready, we will look to open our own stores!"
-Steph Nolan, GM Ceres Life
Congratulations to Steph and the Ceres Life team on their continued success. We can't wait to see what you do next!
To learn more about Ceres Life click here.