"Receiving Home Learning Packs Empowered Me to Be in Charge of My Own Learning"
9th February, 2021
Due to COVID-19, all schools in Uganda were closed from March 20th, 2020. In order to support students learning while at home, we developed home learning packs in the core subjects for primary and secondary levels. Cotton On Foundation team together with self-motivated teachers from our supported schools safely visited children's homes to distribute home learning packs.
Many students who attend Namabaale Primary and Namabaale Senior School live very far away, and are scattered all over the vast Lwengo district, comprising 30 villages! The team was able to reach most children within the first two weeks of school closures in 2020, however, children located in very remote areas were more difficult to reach.
In another attempt to locate more Namabaale students, the Cotton On Foundation team visited Kagoogwa, a remote village in Lwengo. Here, they came across Ronald, an eleven-year-old P.3 pupil of Namabaale Primary School. Ronald led the team to all of the children's homes in the village, which meant that over 324 learners from 285 households in remote areas received home learning packs; all because of Ronald!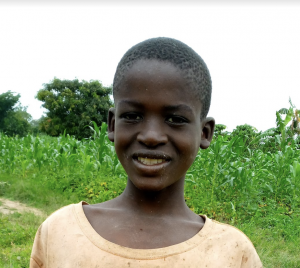 As well as assisting with the distribution, Ronald himself also received a home learning pack, here's what he had to say about home-learning in 2020.
"I am eleven years old and the second born in a family of five children. We are orphans and our eldest sister is thirteen years old. When schools were closed, I was worried because I was not learning anything and that implied that I was going to repeat primary three. Some other children were learning using the radio but that was not possible with me since we don't have a radio at home. By the time schools closed, I had very few notes in my books, so I didn't have anything to revise at home. Since we are many at home without a garden, my daily routine was mainly digging for other people with my mother to get food without reading or revising my books.
However, one day as we were digging for someone with our mother, a car with people from Cotton On Foundation stopped. They asked me if I was studying from Namabaale Primary School and if I knew other children that went to Namabaale Central Schools. They gave my sister and I a home learning pack each and guided us on how to go about the activities. They also advised me to bath on a daily basis because I was not bathing due to lack of soap and clean water. They promised to give our family soap and food so that we remained healthy while at home, which they did after a few days. They also advised me to make a tip tap for washing hands and other things like mats, ropes, balls and brooms using available materials.
For the next four days, I was taking COF staff to places where learners of both Namabaale Primary and Namabaale Secondary lived. Some of these places were so hard to reach that even a car could not go there. I got to know where most of the children lived because we always first accompanied children from the farthest homes while coming back from school to stay safe in the late evening.
After ensuring that most of the children had got home learning packs, I started filling tasks in my home learning packs. At first, it was not easy. My young siblings were disturbing me each time I sat to do the work. On top of that, the packs were getting dirty because I did not have a table to write from. Besides, I had forgotten most of the things in the tasks and I had not learnt some as well. I made a timetable.  Every day, I could do at least a task from one subject.  Whenever I failed to get answers for some tasks, I could consult my sister who was in P.4. or my mother. Since my mother completed P.5, she knew most of my P.3 work. In most cases, I did numbers that I knew very well first and then waited for my mother to help me whenever she was free. Each time I completed any task, I could get one or two of my friends from other schools who did not get home learning packs, and teach them what I had done. This helped me to understand better what I was learning but also gave me a chance to support my friends to learn while at home.
"I completed all the tasks in my home learning packs in four weeks. A week after I had completed all the tasks, a teacher from our school came and marked both me and my sister. She took us through what we had failed and did corrections. She gave us some more tasks related to the corrections we had done. She also informed us that a second set of home learning packs was going to be delivered to us by COF soon. This made me feel very happy because it meant that I could still learn even when schools were closed.
After being assessed by the teacher, I felt ready to go back to school without any worry that I had missed school for long. Right now, I feel confident that I can go to P.4 next year because the home learning packs helped me to learn even when schools were closed. Though I have been at home for almost a year, receiving home learning packs empowered me to be in charge of my own learning and I will continue to work hard in my studies, until I become a doctor and help my mother, siblings and other poor people in Namabaale."