Wrap Up of Pride 2023
1st July, 2023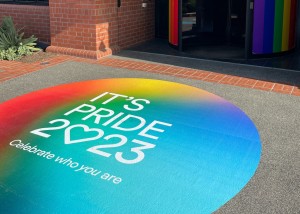 At Cotton On, our people are at the heart of everything we do. We believe in encouraging our team and customers to be their authentic selves every day, and we work hard to create a culture centred in belonging. For us, Pride Month is another opportunity for us to celebrate with our pride community and amplify the voices in our team.
During Pride Month 2023, we heard from team members around the globe and their stories of happiness, challenges, hope and, of course, Pride.
---
"I celebrate pride when I show up as ME – feminine, soft in nature, nurturing, sassy – all the qualities that typically aren't associated with men. But I (and so many others) continue to break the mold that gender expression is not so black and white. There are complexities within our community that I feel are sometimes overlooked and pride shines a light on all our identities – and reiterates that we ALL are valid. That's why pride is so important to me."
– Peter, New Zealand
---
"Pride is every day for me—a celebration of living in my truth."
– Turo, Australia
---
"To me, Pride means being unapologetic and unashamed of myself; June is a month when I feel the proudest and most confident; it also means being thankful to those who fought for the freedoms we have today."
– Rae, United Kingdom
---
"I try to celebrate every achievement and every moment of pride; after all, life is too short not to be proud of who we are!" 
– Paulo, Brazil
---
We work hard to create a culture of belonging – we're all about amplifying the voices, experiences and views that are represented across our global team.