A Cotton On KIDS Campaign Ft. Dad
19th August, 2021
With Father's Day just around the corner in Australia, Cotton On KIDS has kicked off their 'We're For All Dad's' campaign. Celebrating all of the special dads and father-figures right across the globe – who help shaped us, and our minis.
The campaign features matching swimwear, coming in a range of different styles and prints for our beloved Dad's, and their minis!
So whether you are a new Dad, second Dad, Grand-Dad or seasoned Dad – there is something for everyone.
Keep scrolling for a special message from some of the featured Dads or click here to shop the range.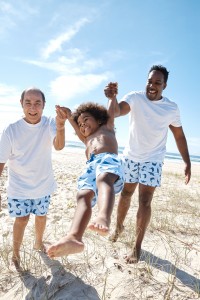 My greatest wish for my mini is that I can pass down my stories and knowledge of my past experiences. I wish to be that older role model for them to turn to when they need guidance or help. To show them love and for them to know that they can achieve anything in their life.

– Damien, Joseph & Wynston.