Doing Good Where it Matters
2nd December, 2022
After two years, our team are back in our partnered communities sharing the Good.
Since 2009, over 800 team members have rolled up their sleeves and flown across oceans to participate in Cotton On Foundation Supported Projects across Uganda, South Africa, Thailand and Australia.
These team members were chosen because they go above and beyond in their day-to-day to create a movement of change. And finally, after two years of travel restrictions, we're excited to share they're back on the ground, seeing for themselves the impact of their efforts.
Since 2007, Cotton On Foundation's projects have been a BIG part of how we continue to make a positive difference in people's lives. We will be a force for a better tomorrow, empowering this generation to create a world where everyone can thrive. Because of this belief, we support holistic education, environment, and mental health programs in all our supported communities – taking care to align our projects with The United Nations Sustainable Development Goals.
Fuelled by our mission, we've spent the last 15 years constantly learning and challenging ourselves to find a better way. And today, in partnership with our team and customers, Cotton On Foundation has raised $150 million AUD towards these projects.
In 2022, we've been able to take team back to our supported projects with trips to Uganda, South Africa, Thailand, and The Northern Territory, Australia.
---
Uganda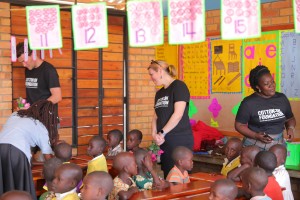 This year, 13,000 students returned to our supported school schools across Uganda. Our team checked in with students in Busibo, Mannya and Namabaale before attending a planning workshop in Entebbe. In addition, the team visited the Mannya Health Centre. The Health Centre provides medical care to the local community, including immunisations and quality antenatal and postnatal care.
It was uplifting to connect with the Foundation Uganda Team and witness their dedication. They represent the whole of Cotton On, and their motivation and diligence towards the learning and well-being of students are unwavering. Their great work is evident from the inspiring classroom environments to the smiles on students' faces as they learn with new resources. – Sarah Dowell, Cotton On Foundation Education Manager
---
South Africa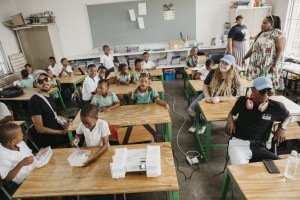 From Uganda, the team landed in Johannesburg. With an expanding presence in the region, we have 1,627 team members across our Support Centre, Distribution Centre and 157 stores. Keeping with the soul of the trip, the team stopped by our Foundation supported Dr JL Dube High School. When complete, Dr JL Dube High School will cater to 1,200 students with brand new facilities, including classrooms, a multipurpose hall, and an all-new Pathways Hub where students can learn about their options after high school.
---
Australia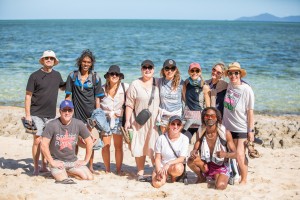 A group of lucky team members stayed local, paying visits to our projects in Queensland and The Northern Territory. In Yirrkala in the Northern Territory, the team met with some of Cotton On Foundation's First Nations partners and learned about local culture. In Cairns, Queensland, the team explored Cotton On Foundation's partnership with Citizens of the Great Barrier Reef (CGBR) by snorkelling and grading the reef.
In this partnership, Cotton On Foundation has pledged $2 million to CGBR over the next three years as a founding partner of The Citizens Reef Cooperative, bringing together Traditional Owners Yirrganydji Land and Sea Rangers, reef scientists from James Cook University, reef restoration experts Mars Sustainable Solutions and leading tourism operator GBR Biology.
My recent trip to Yirrkala was an absolute game-changer. There's nothing like being in the presence of the people we've been fortunate enough to partner with, to listen and learn from them, and to see what the Foundation has helped to achieve. I was in awe. It puts everything into perspective. – Hannah Hatcher, Executive Assistant
---
Thailand
Our team members from Asia visited the Cotton On Foundation Thailand office and supported schools Bwe K'lar, Hsa Thoo Lei and Mae Sot Vocational College. The team got to meet the incredible Cotton On Foundation Thailand team and cook lunch for students at Bwe K'Lar Learning Centre.
It was so inspiring to see how much GOOD we're doing in Mae Sot. Our team are doing an incredible job, and the children who shared their stories have left me challenging myself to strive and do more in every way. I'm so grateful for the opportunity, and I can't wait to get back up there with Yim and the team and lend a hand in any way I can. Our purpose is so clear here, and the impact on so many young people's lives makes me immensely proud. – Kerry Ashford, Country Manager Asia