Educating to Change the World
28th January, 2022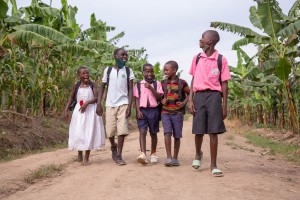 This month, classrooms in Uganda welcomed back the sound of laughter and learning. 10,500 students and teachers returned to Cotton On Foundation-supported classrooms after two years of remote learning, as a result of continued lockdowns. We are proud to see children return and be able to reconnect, rediscover and continue their quality education journey face to face.
Our Cotton On Foundation team in Uganda have been busy creating inspiring spaces for children to learn and grow, equipped with learning tools, resources and kits. Each kit features all the materials needed to make the classroom a bright and inspiring space to learn.
Along with getting the classroom ready, the team know how important it is to bring the local community along on the journey. The team have engaged the community by driving around in a decorated truck, spreading the word and sharing information – ensuring all children have access to a life-changing education.
This is an incredible achievement for everyone. From customers, global team members, team on the ground in Uganda and everyone in between that makes this Good happen.
Learn more about Cotton On Foundation or check out our inaugural impact report, The Good Report.