GivingLarge Report 2022
8th December, 2022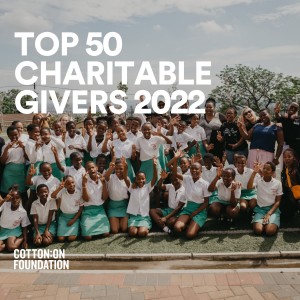 Cotton On Foundation has ranked number 21 in Strive Philanthropy's annual Giving Large Report. Supported by Philanthropy Australia, Corporate Citizenship and The Wheelton Foundation, the GivingLarge Report highlights Australia's top corporate givers regarding community contributions.
By investing $21.9 million AU to supported communities in calendar year 2021, Cotton On Foundation is described as a 'big hitter' in The Australian Financial Review's report recap.
Since 2007, in partnership with teams and customers, Cotton On Foundation has raised more than $150 million AU towards projects in Uganda, South Africa, Thailand and Australia. By partnering with supported communities to deliver pathways to meaningful employment, supporting mental health initiatives and amplifying climate-positive initiatives, Cotton On Foundation is dedicated to being a force for a better tomorrow, empowering this generation to create a world where every young person can thrive.