Fuelling Positive Change Across Our Oceans
19th January, 2022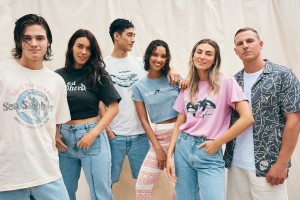 This month saw the launch of Cotton On's partnership with Sea Shepherd. A non-profit conservation organisation which works to safeguard our oceanic ecosystems and ensure their survival for future generations, giving our global customers and team member's the opportunity to support Sea Shepherd's mission to save and protect the world's oceans and marine animals.
I'm so excited to be working together on this. And, I hope that when you do read about Sea Shepherd's successes, that you realise that they are your successes, too. You helped make it possible. You created new ambassadors and put fuel in our ships.

– Peter Hammarstedt, Director of Campaigns, Sea Shepherd
The range offers in-house designed t-shirts and apparel made from 100% organic cotton, available to customers globally at different stages throughout 2022. The range uses a Cold Patch Batch Dye process where possible, which uses less water, salt, and chemicals in the manufacturing process – and the shirts even have buttons made from coconuts.
The Good doesn't stop there, either. 10% of proceeds from the sale of each item in the range will go towards Sea Shepherd's efforts to continue defending, conserving and protecting our oceans and marine wildlife.
Recently Sea Shepherd's Director of Global Campaigns, Peter Hammarstedt, joined a virtual conversation with hundreds of our global team to share his history, the impact of Sea Shepherd's work and how this partnership is making a positive difference.
We're thrilled to be kick-starting 2022 with this life-changing partnership, giving our team and customers another way to join in on our mission to Do Good.
Want to know more about The Good we do? Check out our inaugural impact report, The Good Report.